"Florals, for Spring? Groundbreaking."
-       Miranda Priestly, The Devil Wears Prada
If you're anything like me, this past year you've been spending a lot of your time in your kitchen. It's become a multifunctional space recently; many of us have started to cook a lot more at home since the closure of bars and restaurants. We've adjusted to having zoom calls whilst sitting at our breakfast tables sipping on our cups of coffee. We've even been inclined to have one or two extra glasses of wine from our fridges – no judgments here! It's the small things that we have been missing the most from our normal lives. Personally, I've started to miss the experience of entering an interior for the first time and letting the décor of the space influence how you feel. I've even began to miss the vibrant green glow of the Starbucks logo as I collect my morning coffee before work, the playful pop of red from my lunch time visits to Pret-A-Manger, and of course the atmospheric ambiance of those Soho bars I would visit on the weekends.
The kitchen is an ever-important room in your home. Its where you cook all of your meals, have late night conversations with your friends, grab a morning coffee and an evening glass of wine. A kitchen is a very personal space, so why should we settle for a bland and dreary interior? Now that Spring is here, it's time to invite some colour and personality into the most important room in our homes, to transform it into a space we feel comfortable in and feel proud to show off to our virtual colleagues and small social bubbles. Allow me to tell you some of my favourite cost affective and simple tips and tricks to transform your space…
Plants
Spring is finally here, so why not make the most of this year's gorgeous blossoms by incorporating some nature into your kitchen?
Herb Garden
A great way to add an element of greenery to your kitchen is by keeping herbs. Small pots of herbs not only make the room look more colourful, but will also fill the space with natural fragrances. Keeping herbs can also elevate your meals - a basil plant could make that tomato pasta you're making more authentically Italian, whilst keeping a mint plant could help to add extra flavour to that mojito you're planning to drink when the sunshine comes.

Rosemary, Oregano, Thyme, Parsley and Chives also thrive inside next to a well-lit window, so next time you go to buy some dried herbs at your local supermarket, think how much more satisfying it would be to grow your own.
Flowers
I don't know about you, but spring is my favourite season for flowers. Daffodils and tulips are in abundance and the ultimate way to brighten up a room with their vibrant yellows and pinks. Take a visit to your local flower vendor to pick the perfect bunch for your kitchen, but make sure you place them in a beautiful and vibrant vase to match!

Hanging Plants
Lacking counter space to put your plants? Just look up! Hard to reach parts of a kitchen often go unnoticed and remain plain and dull, so why not take those plants off of your valued counter space and hang them from above? Ivy is an ideal plant to hang from above, as its vines can grow to get very long. String of Pearls is another great plant to hang as they require little care and attention, but can grow to an enormous length. To make these green vines pop, pot them in a vibrant hanging planter.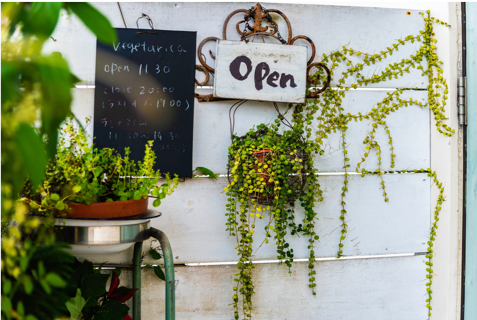 Lighting
Although Spring is here, the great British weather remains unpredictable, so having the most suitable lighting for your kitchen is important, not only for style but for your health too. 
The simplest way to make your lighting ambience better is to change your harsh bright white light for a bulb with a softer, warmer glow. Installing a dimmer switch is a great way to ensure you have enough light to do day to day tasks, but also a softer evening ambiance for dinner parties or relaxing with a good book. You could even upgrade your light fittings and lamp shades for extra elevation.
Lighting comes in many different forms, but my favourite will always be candles. Light coming from a flame that is met with the fresh smell of clean cotton or the rustic smell of cedarwood brings me instant serenity and happiness, so why wouldn't I cover my house in my favourite smelling candles?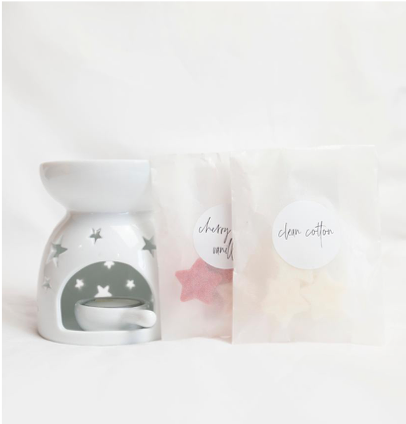 Pro tip – Have you gotten to the bottom of your favourite candle but there's still wax left in the jar? Well instead of wasting it, add some boiling water to the jar and wait a couple of house until the wax is floating at the surface. Then simply pop the wax out and place on a lit wax melt to release the scent. 
Walls
An obvious yet drastic way to add some colour into your kitchen is by painting the walls. If you're anything like me, you're sick of your plain white walls and need a change. Pastel colours are a great way to subtly add some colour without it being too dramatic. Another option is to paint a feature wall, or even just the door or window frame. Only painting an aspect of the room with add dimension and shifts the focus towards something brighter and more colourful. If paint isn't practical for you, tiles can also be beautiful and functional way of creating a feature wall.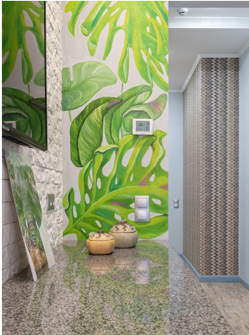 However, if painting the walls is not for you, then try painting the cabinets. Painting the cabinets a lighter colour will open up the room and make the room feel more open and welcoming. A simpler way to upgrade your cabinets, if you're not fully committed to painting them, is to replace your cabinet handles for something a little more vibrant and playful.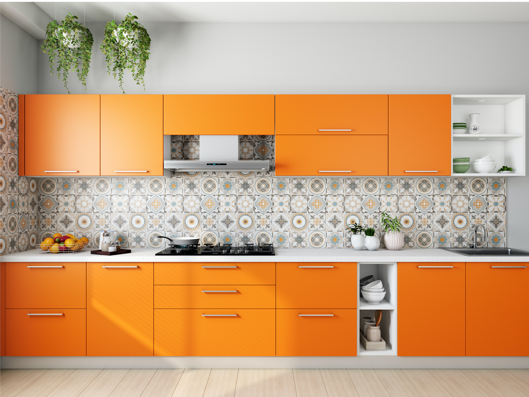 If you are lucky enough to have a beautiful view, let the view become more of a feature in your kitchen by framing the window with some delicate curtains or blinds. But if like me you have a grey and dreary window view over the city, don't let that define the room! Frame the window with colourful and patterned curtains that you can make yourself from a fabric of your choosing! Not only will curtains help to add colour and personality, but will also give you some extra privacy.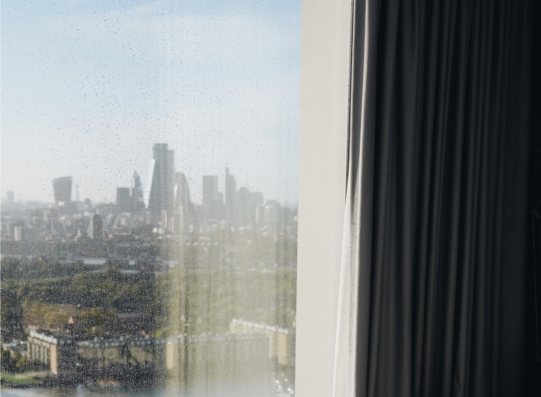 If you're looking for more personal touches, have a painting night with your family, friends and flatmates, to create beautiful and personal artwork that you can then frame and hang in the kitchen. These don't have to be works of art by any means, and they will give you a great story for when people come and visit.
Furniture
If you're ready for a big change, why not upgrade your dining table and chairs? You could purchase some new ones either at your local furniture store or a vintage market, or up-cycle the ones you already have simply by adding a lick of paint? Adding new items of furniture can not only be useful functionally, but also make the space feel new and exciting again.

Counter Essentials
If you're not ready to fully commit to any of these permanent ideas, or are currently renting a place where you cannot make big changes, try these simple yet vibrant changes…
Adding colour to a kitchen could be as simple as buying a new cutlery set with bright pink handles, or coordinating your toaster, kettle and coffee machine to be the same pattern and colour. A beautiful and simple way to decorate your kitchen whilst also organising the food in your cupboards is to decant food items from their packaging into colourful and coordinated jars.
Switch out your old and tired tea towels for some fresh and fun ones. A funky tea towel is an amazing way to subtly add colour and pattern to your kitchen, whilst being incredibly functional.
If you've just bought a new dining table and want to take care of it correctly, coasters and table mats are a must! Coasters are essential to not ruin any surface, so why not swap your plain coasters for some new gorgeous colourful ones!

(Coasters and Teatowel featured in the April box)
By Emily Hutchins
Hi there, my name is Emily and I'm a recent Interior Design graduate! I love all things design, and hope to share my best creative advice with you! @emilyhdesign